I posted this on my message board - which is private and only open to Martina fans - and did not get much of a response. And I only spent about an hour putting the whole thing together! Lol. Anyway, here it is again. As most of you know, I only became a fan of Martina's in 1989 so I missed the heyday years at the Open. My memories date from 1989 onwards and here are my top 3:
1. Martina's run to the finals in 1991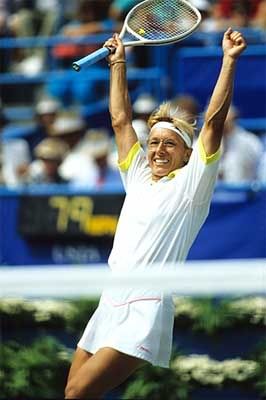 I don't think I will ever forget Martina's incredible run to the finals that year, where she went one round better than Jimmy! For starters, she was only the #6 seed, with Mary Joe Fernandez slipping past her as the #1 American player the week before the Open. And then there was the mess with Judy hanging in the air. Martina had not played since the Wimbledon defeat to Jennifer and no one was sure what to expect. Perhaps these lowered expectations may have been a blessing in disguise. Certainly, her path to the finals was not an easy one. Save for the first two matches, from the third round onwards, it was one tough match after the other. First, Pam Shriver gave her a tough first set coming back from 1-5 down, before finally capitulating 7-5 6-1. That win sent Martina into the fourth round - a rematch against Manuela Maleeva-Fragniere who had beaten her at the same stage the year before. Martina was down an early break in the first set, but recovered to take the set in a tie-break. Manuela routed her in the second set, but Martina came back to close out the match 7-6 1-6 6-2. Next the quarterfinals against Arantxa - after losing the first set in a tie-break, Martina was just a game away from defeat but pulled to 5-5, then served for the set at 6-5, but was broken. She barely scraped through winning the tie-break 7-5 but then had a more comfortable third set, eventually taking the match 6-7 7-6 6-2. I'll never forget how happy Martina was after this victory. She jumped up and down, punching her racket in the air as she twirled around the court on her way to meet Arantxa at the net. The win set up the much anticipated semifinal against Steffi Graf, whom she hadn't played in almost two years. Martina and Steffi played some of their best matches at the Open and this one was no exception. With her service immaculate, a sharp Martina took the first set tie-break and then positioned herself well to serve out the match at 5-3 in the second. However, just when you thought it was over, the unthinkable happened - Martina choked the lead away, and Graf was back in the match, eventually going on to win that set in a tie-break 8-6 - Martina had been just two points away from the match at one point. But this would not be a case of 1989 redux - Martina broke Steffi immediately to begin the third set and stormed to a two-break 4-1 lead, but then Graf rallied. She broke Martina in the sixth game and closed to 4-3. Games then went on serve until Martina found herself serving for the match at 5-4 0-30. Perhaps in an earlier incarnation, Martina might have folded, but not this time. She regained her composure, serving beautifully and finished off the match with a service winner 7-6 6-7 6-4 - her first win over Steffi since 1987 and the #6 seed was in the finals again! Well, what happened afterwards is not much fun to remember (the entire match is available on Youtube, btw). Martina played a good first set, but then ran out of gas in the second. Monica was simply too tough. And she was bound to have had a letdown after that thrilling win over Steffi just the day before. Many a time I have wished Jennifer had been able to defeat Monica in their semifinal - she was so close, just two points away at one point and served for it twice. If Martina had been facing Jennifer in the finals, I think she would have been especially pumped up for revenge after Wimbledon. Winning U.S. Open #5 at the age of 34 would have been so sweet. But oh well, it was what it was but looking back, I can definitely say that 1991 remains my best memory of Martina at the Open.


2. Martina's return to the Open with Arantxa in 2000
Ok, some of you are probably going, what? What's the significance of 2000? She didn't do that well - lost the third round in the doubles and second round of the mixed. But the match that is seared in my memory is the first round doubles match against Sabine Appelmans and Linda Harvey-Wild on the Grandstand court. We got to see the final set tie-break on tv and I just couldn't believe the crowds - they were so totally behind Martina, it was incredible! Up to that point, Martina had probably

never

had a crowd like that before. They were going crazy every time Martina and Arantxa won a point, it was enough to bring one to tears. This had not been an easy match, Appelmans and Harvey-Wild were ahead in the third set, they even served for the match at 6-5, but buoyed by the crowds, Martina and Arantxa somehow found a way to come back. What I remember the most from the tie-break is Arantxa serving up two crucial aces and Martina making an amazing forehand volley at the net, which had commentator Tracy Austin screaming, "That's incredible!" in admiration - the crowds were so loud, it even appeared Martina & Arantxa had to yell at each other to communicate, simply to get themselves heard. After the final point of the tie-break which capped off a 5-7 6-2 7-6 win, the entire stadium went ballistic with their cheers for Martina, it was truly the most amazing crowd reaction I have ever seen. This set the stage for the next 6 years, the crowds at the Open were always the best - and Martina fed off that support incredibly well most of the time.


3. Martina's & Sveta's run to the finals in 2003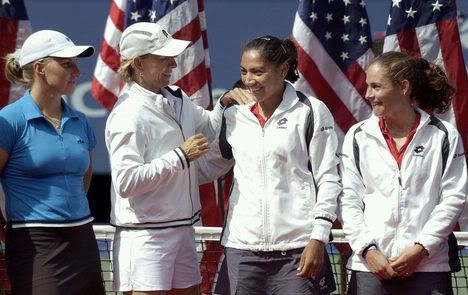 I remember what it was like before the tournament began. News of Leander's illness and then Martina announced she was not going to play the mixed without Leander. Martina and Sveta had had a good summer, after unexpected losses in San Diego and Carson, they returned to triumph in Toronto and went into the Open as one of the favorites, helped by a #4 seeding following Davenport's withdrawal from the doubles. Martina & Sveta coasted through to the quarterfinals where they faced Liezel Huber and Magdalena Maleeva, their conquerors earlier in the year in Miami. But they got their revenge and how! In straight sets, 6-3 6-3. With Clijsters pulling out of the doubles, the first quarter of the draw had really opened up and just when it looked like the dreaded Vento-Kabchi and Widjaja would come through for another slug fest in the semis, they were shockingly upset by the unheralded pair of Marion Bartoli and Myriam Casanova. Clearly, Martina and Sveta were now the favorites to reach the finals which might have been a difficult adjustment for them and it showed - but in the end, they came through 6-4 7-6. I remember how hopeful I was - could they pull of a repeat of their amazing win in Miami against the second seeded Virginia Ruano Pascual and Paola Suarez a.k.a. Suano? Up to that point, Martina had a relatively good record against them and it was natural to expect our team to cap off an amazing year with a Grand Slam title. Unfortunately, it was not meant to be. Martina & Sveta were never really in the match and despite a late rally, they were brushed aside in straight sets 6-2 6-3. Still, when the dust settled, it was clear that it had been a remarkable accomplishment for the ladies which did much to help them qualify for the season-ending Championships. In retrospect, in many ways, this was their last hurrah - they would win one more tournament in Leipzig a few weeks later, but by then, we knew that this partnership was soon to end. Martina was going to be playing with Lisa Raymond in 2004 in the hopes of qualifying for the Olympics. Reportedly, Sveta was upset at Martina's decision and didn't want to play doubles anymore but conveniently, Elena Likhovtseva had also split with her long-time partner, Cara Black, and convinced Sveta to play with her for a similar shot at Olympic glory. In the end, it was all moot - neither Martina nor Sveta left Athens with a medal and I've often wondered how different a year 2004 would have been had Martina & Sveta continued on... but oh well, hindsight is always 20/20, as they say. None of this should detract from the 2003 U.S. Open and what would be Martina's only final appearance in a Grand Slam womens doubles final during her comeback.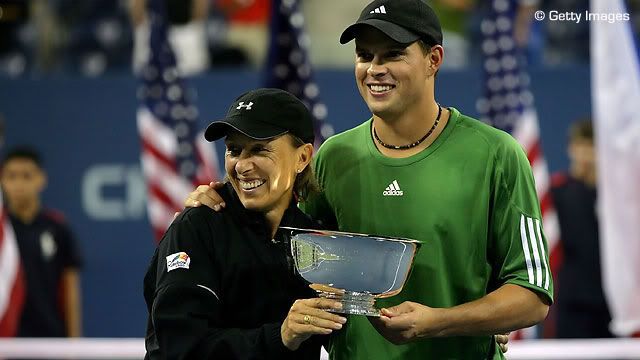 The last U.S. Open mixed doubles win in 2006 with Bob Bryan; the last Grand Slam womens doubles title with Gigi in 1990; and her appearance at the Open in doubles in 1995 - the tournament didn't end well for her, but for one match at least, it was great to see her back on the court with Gabriela.

P.S. Read an old article about the 2000 U.S. Open first round match here.